Details
$149,500

Full Service History
Year Built: 1993
Trans: Automatic
Fuel Type: Diesel
Owners: one
Ext color: Red
Int color: Blonde
CHARLIE DANIELS UNEXPECTAINTLY PASSED AWAY RECENTLY AND LEFT THE MUSIC WORLD AND MILLIONS OF FANS STUNNED AND SADDENED. HE WAS A GUIDING LIGHT AND AN EXAMPLE FOR ALL US TO FOLLOW. WE HERE AT HEMPHILL BUS SALES ARE HUMBLED TO BE ASKED TO POST HIS BAND BUS FOR SALE HERE ON OUR WEBSITE. CHARLIE BOUGHT THIS BUS NEW AND FOR THE PAST 27 YEARS IT HAS CARRIED HIS BAND THROUGHOUT AMERICA AND CANADA. I AM AMAZED AT HOW GOOD A CONDITION THIS BUS IS IN. THE INTERIOR AND SKIN AND PAINT ARE IN VERY GOOD CONDITION EXCEPT FOR SOME CLEARCOAT PEELING. THIS COACH IS IDEAL FOR FAMILY TRAVEL, TAILGATING, OR AS IT S NOW, A BAND BUS. A LOT OF MUSIC AND MEMORIES WERE MADE ON THIS BUS. YOU CAN ADD YOURS TO THEM.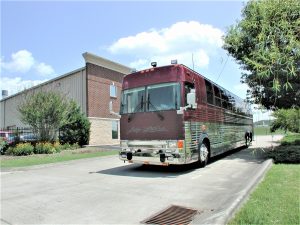 Body, frame, skin, bumper, lights, tires, and glass all in good condition.
Some clearcoat peeling above the front windshields.
Contact us regarding this listing
Back to Top